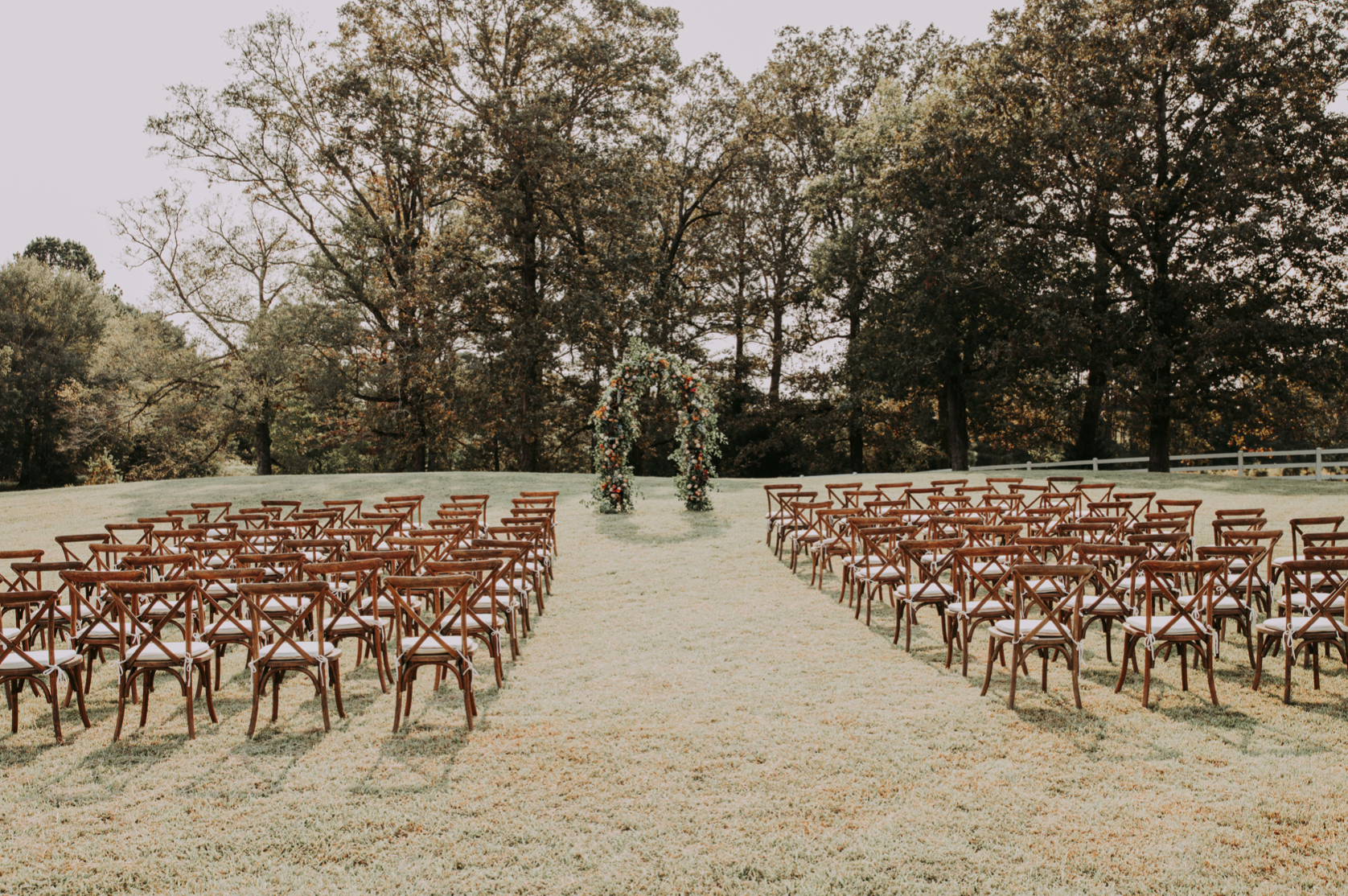 "Jesus said to the servants, "Fill the jars with water"; so they filled them to the brim. Then he told them, "Now draw some out and take it to the master of the banquet."
They did so, and the master of the banquet tasted the water that had been turned into wine. He did not realize where it had come from, though the servants who had drawn the water knew. Then he called the bridegroom aside and said, "Everyone brings out the choice wine first and then the cheaper wine after the guests have had too much to drink; but you have saved the best till now."
What Jesus did here in Cana of Galilee was the first of the signs through which he revealed his glory; and his disciples believed in him." John 2:7-11
I love weddings! Each of the weddings in our family have had their own special touches, some big, others small, some at our home, others at a distant location, but my favorite thing about weddings ands the one thing they have all had in common is that there is nothing sweeter or more special than having all of your favorite people in the world come together in one place, under one tent, to celebrate, honor and bear witness to the marriage of one of your children. It is truly one of the most sacred, and also most fun moments of life!
The morning after Sadie and Christian's wedding I woke up and thought how fun would it be to somehow give that gift to someone else. I know weddings while being joy-filled occasions can also be stressful, overwhelming and let's face it…expensive! So I decide then that we would "give away" a wedding to someone that needed it. I didn't know what that would look like, just determined that we would, and then 2020 came, our world went into a global pandemic and all of a sudden there were thousands and thousands of brides who had dreamed and planned, prayed and saved and put deposits down for weddings that would have to be canceled. I could only imagine how devastating that would be! Sadie and the LO team immediately began dreaming about how they could help this group of "Covid brides" feel a little less alone, and I along with my awesome assistant, fellow dreamer, and ultimate party planner, Lindsay, immediately started planning how we could gift a wedding to a special bride!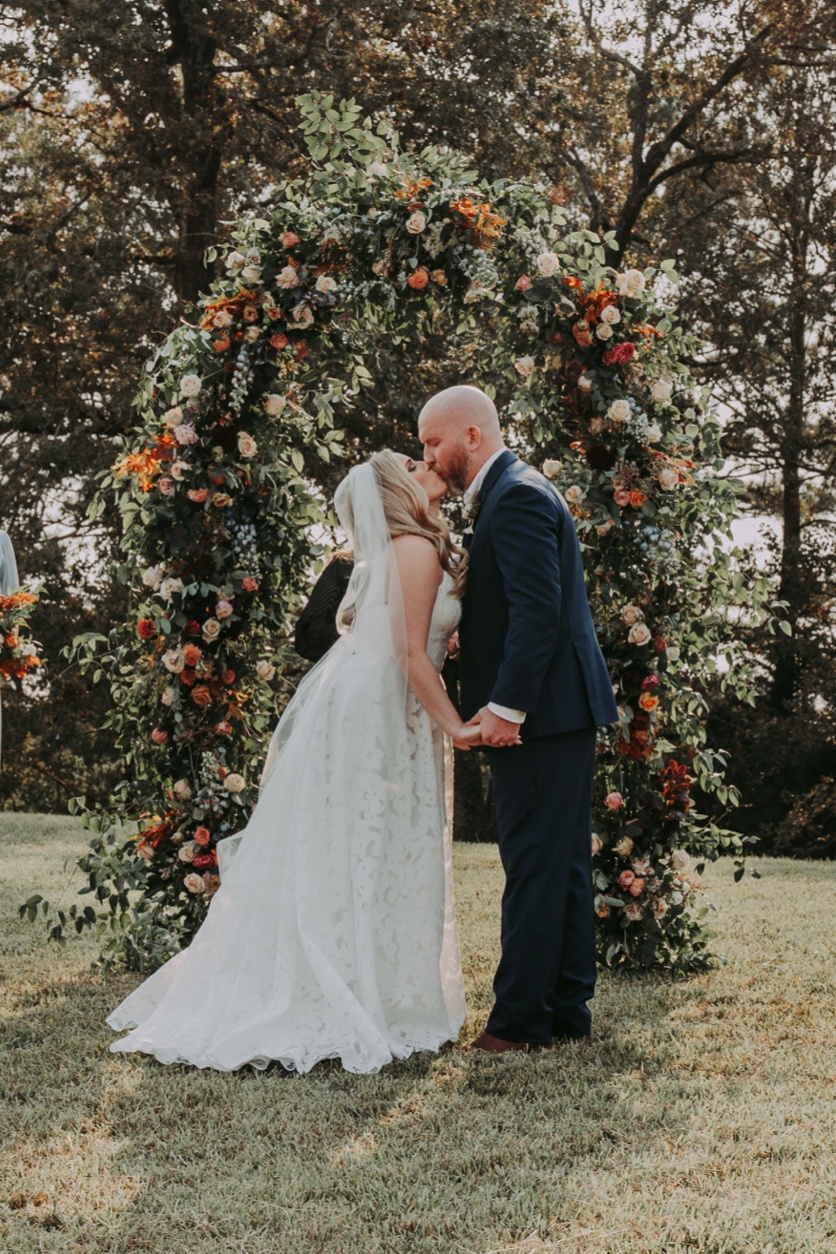 I loved getting the opportunity to help Elizabeth and Adam celebrate their love story in such a special way, even if it looked different than they had originally imagined. I think we can all agree that 2020 has been far from normal, but to be a part of the beginning of a couple's life together, and to help them to celebrate when every thing seemed lost and turned upside down was a complete joy. I hope this inspires you to find ways to celebrate, even in the midst of whatever setbacks or disappointments life brings. Two becoming one is always something to celebrate! Enjoy Elizabeth's Story…
P.S. Don't you love that the very first miracle that Jesus performed was at a wedding! Isn't it so beautiful to see that the savior of the universe listened to his mother and turned water to wine so that a wedding celebration could continue? Our God is always about the business of bringing beauty out of the ashes!
From Elizabeth:
Let's talk about wedding planning. It's a subject that every bride from past, present, and future knows all too well. It's a little crazy, stressful, and can even be dramatic at the worst of times. Now let's make it interesting by throwing a little bit of 2020 into the mix and see what concoction we can come up with. Here's my story of how my wedding went from being something I always dreamed about to a complete nightmare and then circled all the way back to being the most magical, perfect day a bride could hope for. It's a bit of a journey so bear with me.
I met my husband, Adam, back in 2016. We started dating about 6 months after meeting and got engaged Christmas 2018. I could not believe how perfect the proposal was! He even picked out the ring himself and let me tell y'all – he didn't just do good. He did great! We immediately began wedding planning by picking out the date – April 4, 2020. We knew we'd need some time to save up and we were about to move to Texas, so we gave ourselves plenty of breathing room.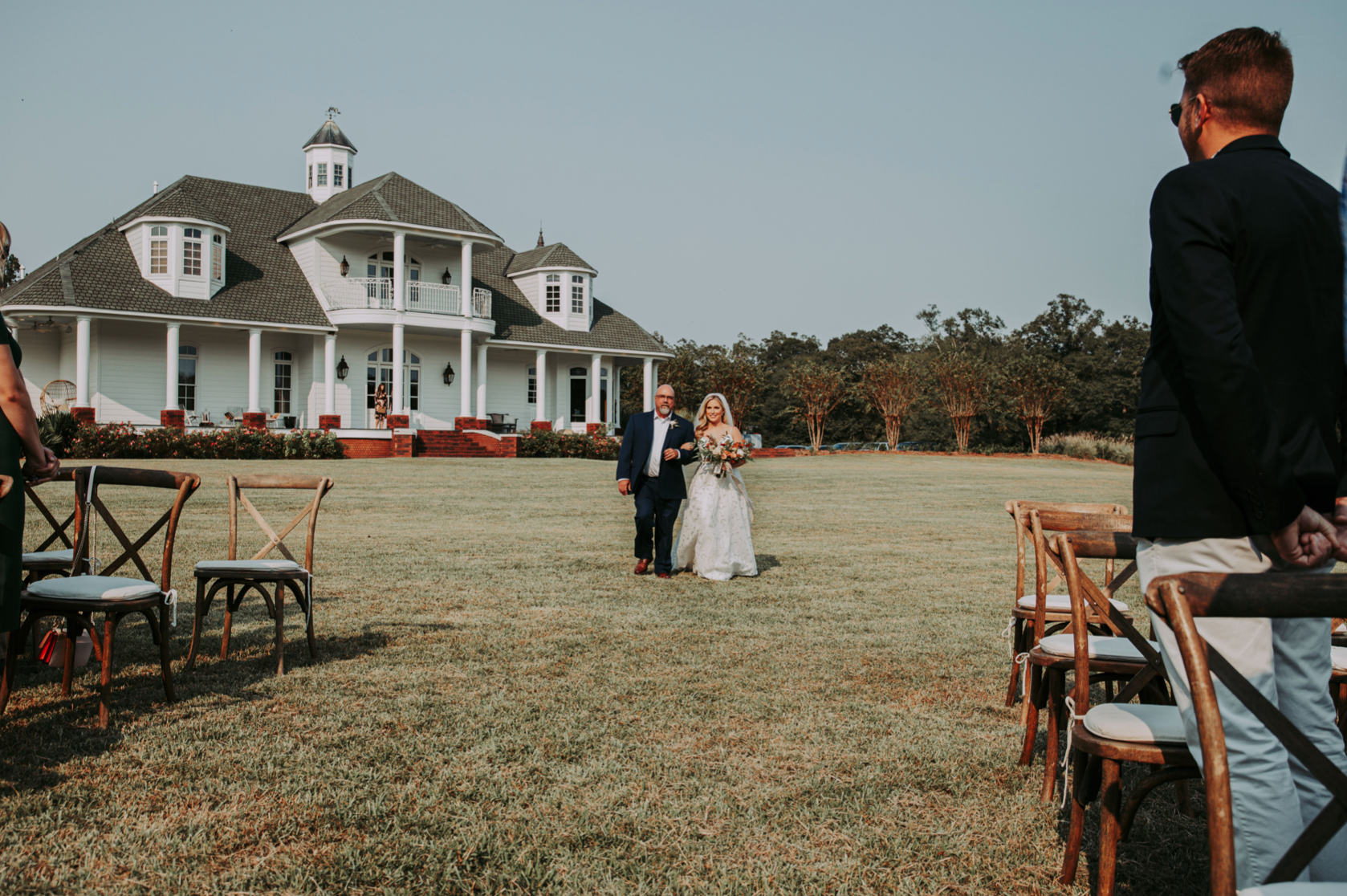 We moved and got our lives started in the Lone Star State with a new job for me and a job transfer for Adam. As an event planner for the past 7 years, I was in familiar territory or at least I thought I was. We had everything finalized and then the world turned upside down.
I was sitting in a conference room at work in March when my boss made the announcement that we were cancelling our annual conference due to the pandemic and the thought suddenly occurred to me that I needed to start looking at a contingency plan for the wedding.
I'm not going to lie and tell you that I kept it together. I cried for maybe a week on and off about the wedding. I was a mess and full of panic. Adam and I had to make a decision and we had to make it quickly since our wedding was less than a month away.
We decided to postpone the reception indefinitely and have a small intimate ceremony with 10 people at my Dad's house in Shreveport, LA. We would try to get back as much as we could from vendors we no longer needed and keep the ones we did need. We had a plan, and it was all going to work out! Except it didn't – my Dad, stepmom, and little sister were all exposed to someone with Covid-19 and their 2-week quarantine wouldn't be up until April 5. Did I mention we learned all of this after getting back home from getting out marriage license in Louisiana?
And then the tears were there again. We put things on hold for a while until I could work up the courage to make another plan. My amazing florist, Brianna Belton, was seriously a godsend. She was the one person who helped keep me sane and didn't make me feel crazy as I asked her question after question about what her other brides were doing and what dates she had available.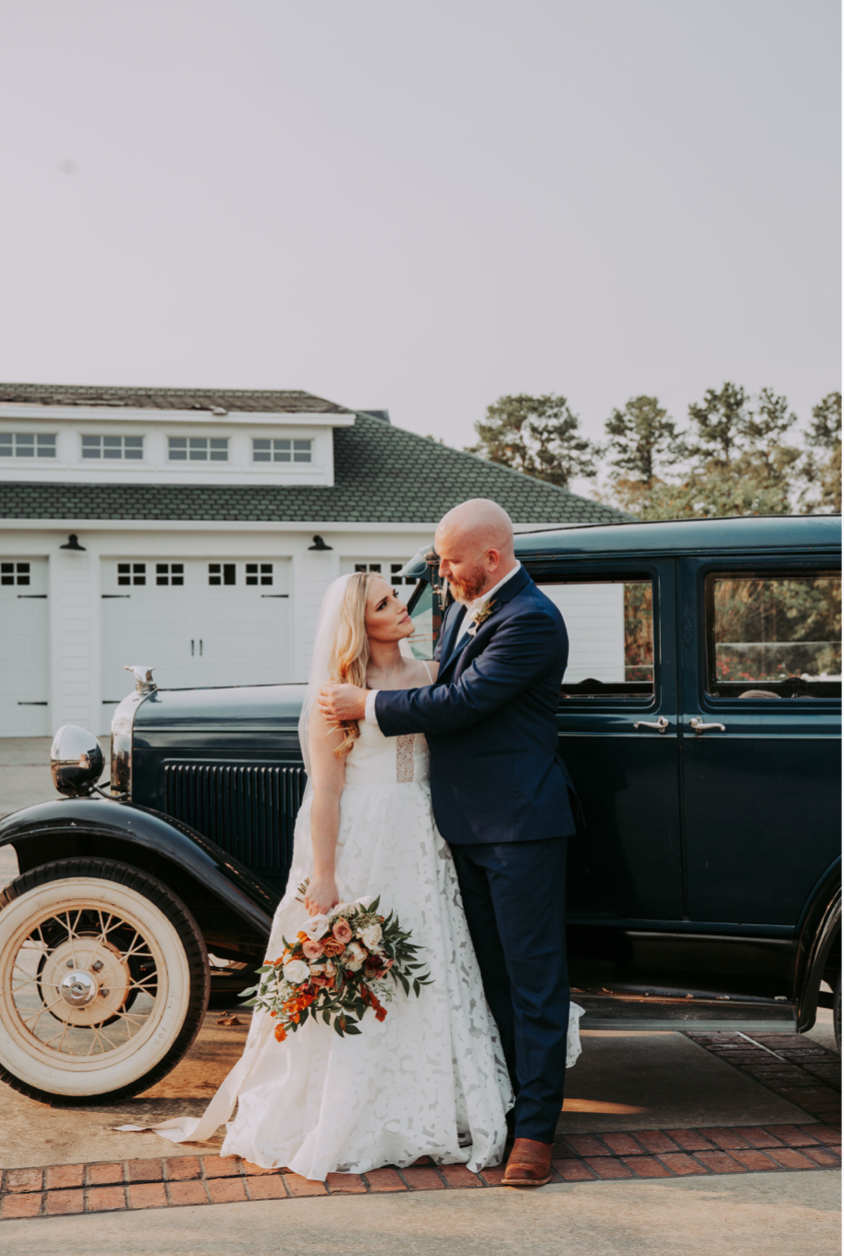 From there, we set on a new date and venue – October 3, 2020 in Bossier City, LA at Brianna's own workshop. We decided to keep things small with 70 people and go for it. Honestly, I was sick of wedding planning at this point. It was supposed to be the greatest experience and it just wasn't anymore. But then something I can only describe as a miracle happened.
Brianna called and said she had a vendor reach out to her who had a previous client that was wanting to do something nice for a bride and groom affected by the pandemic. Brianna asked if she could give them my contact information for them to reach out to me and I said yes.
About a week went by when I received a Facetime call from Korie Robertson. I was in complete shock. Korie offered for Adam and I to get married at their family farm in Calhoun, LA at no charge. It immediately felt like such a blessing that we really needed and a sign from God that this was really going to work itself out for the better.
We kept wedding planning and the blessings kept pouring in. Glass Chapel Videography who was looking to get back in the game after moving back to the area and wanted to be a part of our wedding at no cost to us. Bash Booth (and the original vendor contact) offered their services free of charge. A Element Event Rentals based out of New Orleans who wanted to be a part of this by giving us rentals to use. Not to mention the Robertson's who not only let us use their property, but also paid for the food for the wedding, gave us their tent to use, and opened up their home to us the day of to get ready.
We are forever grateful to the Robertson's for this amazing opportunity and for making us fall back in love with our wedding. They gave us the best day we could have ever dreamed of.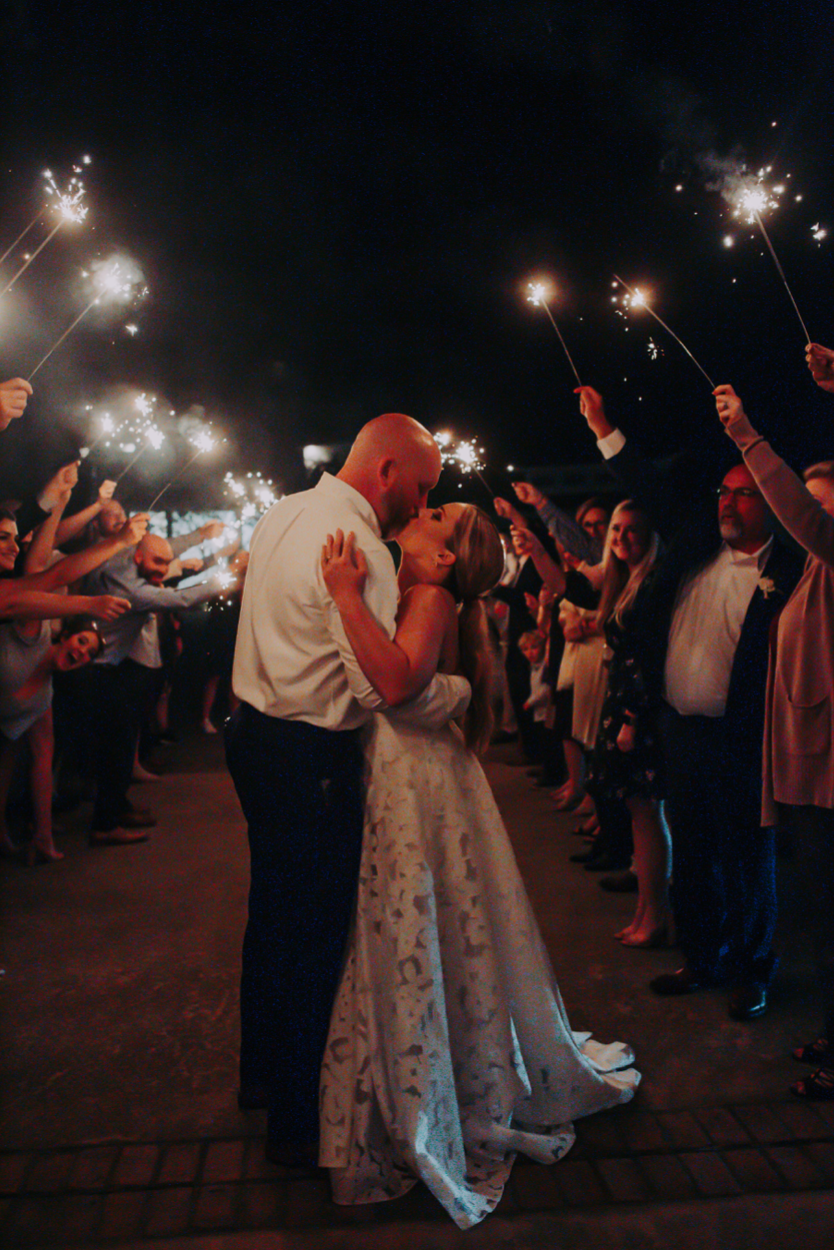 I am extremely honored to have been chosen for this and to have worked alongside the many amazing vendors who made this day possible. Your kindness will be something I never forget as long as I live. In more ways than you can imagine – thank you.
Venue – Willie and Korie's Farm, Korie Robertson @bosshogswife
Florals, Styling, & Catering – Brianna Belton Designs @briannabeltondesign
Photobooth: Sarah Jeffords @bashbooth
Photography – Kayla Hall Photography @kaylahallphotography
Videography – Glass Chapel Motion @glasschapelmotion
Hair & Makeup – Grace Coyer Trahan
DJ – HollyTrees Weddings & Events @hollytreesweddingsandevents
Cake – Uptown Down @udruston
Dress – A & Be Bridal Shop Dallas @aandbe_bridalshop
Explore Elements: @exploreelements