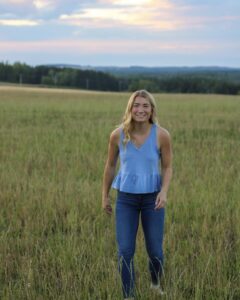 Note from Team LO: We are SO excited to bring you this month's post from our LO sister member, Maggie Castonguay! We are so encouraged by these 5 pieces of advice she'd give her younger self. If you want to be a part of this incredible community, you can join today and your your first week FREE! Find out more about this online sisterhood HERE. And for more info about what LO sister is all about, visit our Instagram Page!
Now, enjoy today's post from Maggie 🙂 
________
1. Do not compare yourself to others – you are who God made you to be!
In high school, one of my biggest struggles was comparison. I would think, "she is much prettier than I am, I wish I had her style, her Instagram looks so much better than mine, why can't my hair be as gorgeous as hers?" The truth is, we have all struggled with comparison at some point. Maybe even subconsciously. The dangerous part about this is we are not seeing ourselves, or others, through God's eyes. We are tearing ourselves down by thinking we are less than others, and we are tearing others down to make ourselves feel that we are more. However, God sees the beauty in all of us. He has given us all different gifts. One passage that changed my whole viewpoint was 1 Corinthians 12:12-31. I encourage you all to read it now, but I will provide a brief summary. It talks about how our bodies have so many different parts, but they all serve an important purpose. If our foot wished to be a hand, how would we walk? If our ear wished to be an eye, how would we hear? The same goes for the gifts that God has given us. If we were all teachers, who would respond to fires or accidents? If we were all doctors, who would build houses? God has given each of us a unique gift and has created us in His image. This makes us beautiful in His eyes. That in itself should be enough to tell us that we are perfect just the way God made us.
2. Work as hard as you can – not for your own glory but for God's glory!
School is a lot of work. Whether you are in middle school, high school, or college, there is always a lot of work to be done. We have to work hard for good grades, to earn a spot on the sports team, to have our article published in the school newspaper, or to create good content for the yearbook. There are so many things to work hard for. However, sometimes I would forget to work hard for God's glory. I would be so quick to take all the credit when I would do something well, but so quick to blame God when something didn't go the way I wanted. I would say, "But God, I prayed and prayed for you to help me achieve this goal. And you didn't." But friends, what I have come to realize is that our agenda may not align with God's agenda. God will always answer our prayers, but sometimes it is not the answer that we had expected. We also cannot pray to get an A on the test, but then study as if we were going to get a C. Colossians 3:23 says, "Work willingly at whatever you do, as though you were working for the Lord rather than for people."(NLT) Whatever we are doing, we need to work hard for God's glory and not our own.
3. Be patient and loving towards those who frustrate you!
You will encounter a lot of people in your life that you may not agree with. Sometimes it is so hard to see them through God's eyes. However, they are a child of God, just like you and me. They are just as deserving of our love as our best friend is. Gossiping is a HUGE problem during our teenage years. It can really get people down. Gossiping can spread lies and private information about people. When we find ourselves feeling negative towards others, it is so easy to end up talking bad about them. However, this is not what God wants us to do. The bible says to "bless those who persecute you. Do not curse them; pray that God will bless them." (Romans 12:14 NLT) This is hard! But friends, we need to pray that God would help us see through His eyes and be patient and loving towards that person.
4. Do not live for the world's approval – be bold in your faith! Way too often, I found myself trying to receive the approval of my peers. It is so easy to get caught up in what is "cool" and "trendy" that it causes you to drift away from God's word. Unfortunately, going to church and being bold about your faith is not considered to be cool or trendy. So I kept quiet about my faith for a long time, scared that my peers would look at me differently. But friends! Your faith is nothing to be ashamed of! I have been able to grasp that the more I read my bible and really strive to live my life for God. It is SO exciting to see someone else's eyes light up when you introduce the love of God into their lives. You guys, we are not living to please or to be approved by this world. We are living to please and to be approved by God. Our mission as Christians is to spread the good news about Jesus and make heaven crowded! If all Christians were silent about their faith, fearing that they will not be liked by this world, how would anyone else come to know and love God? Instead, imagine what would happen if every Christian was bold in their faith – heaven would be full!
5. Don't get so distracted by everyday life that you forget to LIVE your life!
High school was probably the busiest time of my life so far. I had extracurricular activities, athletics, academics, and other personal life events that made my everyday life fly by. I would leave for school at 7:15 AM, and I would usually get home around 7 PM, sometimes later. I got so caught up in the stressfulness of my everyday life; that I sometimes forgot to stop and take it all in. To appreciate what God had given me. I noticed this when my senior year suddenly stopped because of COVID. No graduation, no prom, no senior track season, no more walking through the halls of my high school. At that moment, I wished that I hadn't taken advantage of the everyday life that I was so blessed with. Every day God wakes us up and blesses us with a new day. We need to live each day as if we aren't going to get another one. (I learned this from Sadie's book LIVE, by the way)
Now, I wish I could say that I have conquered these 5 struggles, but the truth is I haven't. I still fall and mess up each day of my life. But the biggest piece of advice that I want to give you is this – don't be afraid to make mistakes! Go after that big dream of yours and conquer it head-on. Because girl, you can do ALL things through Christ who strengthens you!