I am so excited to share a snippet of my piece from the Powerful Workshop launching April 1st! Body Image is something we've all most likely struggled with at one point or another, and this workshop is here to combat all the lies the enemy feeds us. It's not too late to sign up, friend. Do yourself a favor and join HERE! Now, I pray these words encourage you today!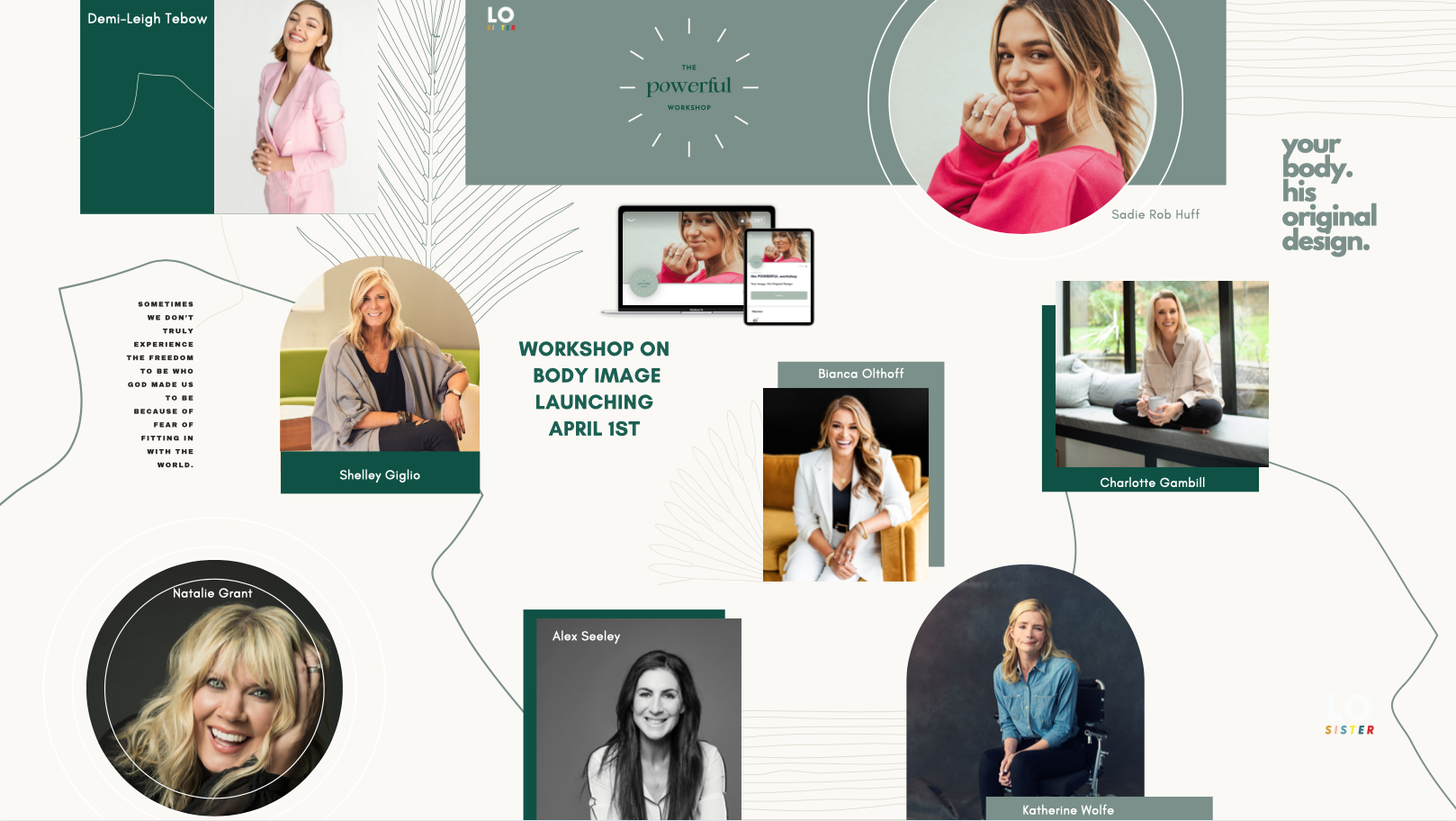 When I was little my dad used to be the king of nicknames. He literally had a nickname for everyone. Except for me. I would beg him for a nickname and he would always say the same thing to me when I would ask. "Sadie, you are just the Original." There is no one like you and essentially nothing to compare you to. He would often call me the original and I know now telling you this story how beautiful that is that my dad would say such a thing. But as a young kid I was like… "the original" … really … that doesn't really have a ring to it.
I wanted to be something else because honestly everyone else's was just a lot cooler the mine.
What I once thought was lame all the while was actually my father speaking Truth over my life. I think too many times we do the same thing. God has spoken something over us and calls us by name, wanting us to walk into the fullness of the miracle that we are, but we look around and just think, "eh, if only I was them then I would be something great."
If you follow me in life at all you can see that at some point something shifted in me and I started to actually believe what my father said was true and I wanted everyone else to believe the same thing, so I started a ministry called… Live Original. Crazy how who we are is always tied to our purpose. You see, so many of us are trying to figure out what our purpose is, but it would be near impossible to figure out what your purpose is if you do not even know who you are. You may think, "well how do I find out who I am?" I want you to start by knowing that you too, are an original.
Let's look at a couple definitions of original.
Original –  
Present or existing from the beginning; first or earliest.
Created directly and personally by a particular artist; NOT A COPY.
These two definitions actually tell a lot about our identity. The first speaks to who God is and the second speaks to who we are.
Present or existing from the beginning; first or earliest.
God is your original designer. He is the original creator. He is the first and the earliest creator. The word used for Him as the creator in the old testament is Bara. That word is never used for humans in the bible, because that world is reserved for the original creator. Although man has made many things, all of them could be credited to God because God made the man who made the thing.
Created directly and personally by a particular artist; NOT A COPY
This is you. You were created personally by God.
You were created personally by the original creator and not to be a copy. And you may say, "Well Sadie this is like 1st grade learning level. How is this going to help me with my body image?" and to you I would say, "If it is so 1st grade then why do we struggle with comparison so much?" I mean, seriously? If we know that we are an original, we know that we are not a copy, we know that God makes all creation good, and we know that we have a unique purpose then why are we all in the same boat of insecure, disorder, comparison, and complacency? Let's look at what comparison actually is and try to break this down.
The definition of comparison – a consideration or estimate of the similarities or dissimilarities between two things or people.
The truth is you could look at someone all day long and there will be similarities because you're a part of the same creation, but there will also be dissimilarities because you are not a copy!
You say she's so pretty, she's so skinny, she's so curvy, she has the curliest hair, she has blue eyes – YESSS she does because that is how God made her! LOOK AT WHAT YOU HAVE!
Yes, there will be things people like about her that you don't have and things people like about you that she doesn't have if you start living who you are to the fullest instead of trying to be a less version of her.
Psalms 139:11-16 says,
"For you were formed in my inward parts; you knitted me together in my mother's womb. I praise you for I am fearfully and wonderfully made; my soul knows that full well. My frame was not hidden from you when I was being made in secret, intricately woven in the depths of the earth. Your eyes saw my unformed substance…"
I love that David wrote this. His soul knew full well that he was fearfully and wonderfully made. You might say it was easy for him – he was a king, a hero, a musician, and he killed lions and bears with his own hands. But if you remember the story, that same David, was the last pick of all of his brothers.
And If I know anything about insecurity it's that it doesn't matter how far life takes you or what you achieve. You can still hold on to things people said about you in the past and compare yourself to other people. Even when I was modeling at New York Fashion week I was insecure because I still saw myself for what people had said about me and it was so easy to compare myself to every girl walking beside me.
How hard is Psalm 139 to believe? Let's be real. How hard is it to believe that for our self and about our self?
Do you believe that God formed you?
Do you believe He knit you together?
Do you believe that you are wonderfully made?
I mean does your soul KNOW full well that you are wonderfully made?
For the full version, video teaching from me and all my favorite mentors (this lineup is UNREAL), visit thepowerfulworkshop.com to read more about this body image workshop (launching 4.1.21!), and get signed up TODAY!