A few years ago, I did something that felt bold, daring, and maybe a little bit crazy. I dyed my hair pink.
Pink. All over.
It's been something I've thought about since high school, if you can believe it.
The idea stuck in my head for about two decades, until I was chatting with Kat, my friend and hairstylist about feeling sad that I had missed "my window." I sighed as I sat in her chair, bemoaning the fact that I was too old to do something as silly as dye my hair this fun and bright pop of color.
She stopped and looked at me in the eye through the large mirror in front of us and told me her mother is in her sixties and has bright purple hair. She asked me, "Who told you that you missed your window?"
I came up with all sorts of excuses: I'm a mom, I'm nearly forty, and so on.
"You're living a timid life," Kat told me.
"What?" I laughed. "How? I have six kids!  Four of them are from Ethiopia! I mean, we even adopted a teenager! I'm writing books, I'm traveling around speaking. I'm stepping out of my comfort zone every single day! How is that a timid life?!"
"Ok, cool," Kat responded. "You can say yes to the big things. That's great. But what about the every-day stuff? Can you live boldly in that, too?"
I had to stop and consider that.
"Stop being timid," she said again. "If you want pink hair, just do it. You're the only one saying you're too old."
Was I being timid? Yes. Absolutely, I was. Why was I being so cautious about something as silly as hair?
If I hated it, the worst thing was let it fade and go back to blonde, right? I voiced my concerns and apprehension to Kat as she continued fixing my roots, turning them from a mousy light brown, back to the blonde I've always been and loved.
She looked at me in the mirror once again and winked when I asked if we could do a little section of hot pink—underneath, where I could hide it if I wanted to. Hairdressers are like counselors, aren't they? They talk you off ledges and push you gently when you're feeling stuck.
That afternoon as I walked to my car with a pink streak in my hair, my heartbeat fast. It felt bold and daring, but I was still massively self-conscious, like I needed to justify it to others. Yet even with my insecurity, each time I looked in my rearview mirror or walked passed a mirror in my home, the pink would catch my eye and I'd smile. The thing was, I liked it. I realized I needed to get over the idea that others may not.
After all, I didn't do it for them, I did it for myself.
Meanwhile, a year or so later, Kat had dyed her hair the most beautiful shade of blush and every time I saw her at Bible study, I obsessed over it. I was smitten. It was gorgeous. "But you're a hairstylist," I told her. "You can have crazy hair."
She rolled her eyes in the kindest way possible and asked me again why I was being timid. "You don't work in an office," she said. "You have no dress code to adhere to. You're also a creative and you love pink. In fact, the color is basically your branding. I'm not going to push you, but when you're ready, I'm ready."
I went home and mulled over it for days. Eventually, I decided I was ready. I gripped my coffee cup tightly that morning as I sat in her chair again and told her to go for it. "Seriously," I said while taking a deep breath. "Let's do it."
And then I freaked.
What was I thinking?! I wondered as my heart raced. This was too bold! Too crazy! Kat had warned me that each washing would take some color out. So what did I do? I washed my hair five times that first day because I was afraid I looked like a superhero or someone straight out of a comic book.
What was I thinking?! I said to myself again as I realized I had a big event coming up mere days later, an event full of conservative Christian ladies. How will they react? What will they think?
My stomach churned as my insecurity grew over what others thought.
In fact, I decided their thoughts for them as I imagined them whispering to each other that a nice Christian girl couldn't possibly have pink hair.
I've been pink all-over now for about four years and have fallen unabashedly in love with my pink hair. I realized that rather than closing doors, my pink hair was opening quite a few.
But those beginning weeks of being all-over-pink, I realized something about myself:
Without meaning to, I think I often push people into categories.
For example, if you're more traditional in how you look, your faith is probably deeper, right?
But if you're a bit more extravagant, if your look doesn't match the "norm," then you're probably more of a work in progress.
Who says? Who put these thoughts in my mind? Why would I look at someone with "too many" piercings or tattoos and assume that my faith is deeper than theirs? When did I become so judgmental?
I am not a judge. I am not a lawmaker.
I've noticed though, a lot of people think they're judges and lawmakers like I did.
I've met people who were rude and dismissive, making unkind comments about my hair. I've heard my kids' friend's parents say they were excited to meet me, only to turn around to shake my hand and stop. Faces frozen and smiles waning, they move on quickly. There have been awkward moments while serving in leadership at church.
But there have also been moments where little girls come up and say in their sweet little wispy voices, "I really love your hair." I've had young and old women alike tell me how they wish they were bold enough to put color in their hair (and some even have!).
There will always be naysayers that think I am I doing this for attention
That's absolutely not it at all.
Rather, it's a small way to prove to myself that I'm not timid. It's a constant reminder that I don't do things because of the status quo, but because I'm learning what it means to be ME.
Who says how we should look? As long as I'm not acting in a way that's contrary to my values, what rules really matter?
I don't want to sit in Kat's chair 50 years from now and say, "I wish." Instead, I want to look back and think:
"Yes, I was comfortable enough in my own skin to do something different. I had enough confidence in myself as a woman to do something bold and outside the box. And I went for something that was an outward expression of me and who I am."
Because that's the kind of women I want my daughters to be, too.
What about you, dear friend? What have you said No to because you've simply been too timid? Is there a bold move that you've left on the back burner, or even rejected outright?
Maybe it's an unexpected new style that makes you feel more confident, more yourself.
Maybe it's an experience that requires a leap of faith. Have you secretly been wanting to travel to a third-world country, skydive, change jobs, or take classes to learn something new?
What is it that you have been too afraid to do because of what others may think? What portion of YOU is just aching to come out?
Why not do it for you? So, you fail, so what? So, someone makes a backhanded comment. We'll probably get them while looking or acting the way we do now anyway.
We've all heard the quote,
What if I fail?
Oh, my darling, what if you fly?
I'll leave you with that. What if saying Yes to this thing is the first step your heart needs to flourish and fly? Even if it feels small and inconsequential in the grand scheme of life, what if this one little act leads to something bolder and bigger?
---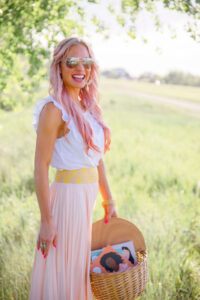 Teresa Swanstrom Anderson is a blogger, author, speaker, and Bible study teacher from Denver, Colorado. Teresa grew up in Seattle, but spent her middle school years in Guatemala and has a deep love for people in developing countries. Now living in Denver with her husband and six children, she spends her days wiping off sticky counters, Instagramming, and blogging over at teresaswanstromanderson.com. She is the author of Beautifully Interrupted and the Get Wisdom Bible Studies. Connect with on her on social media @teresa.swanstrom.anderson where you can find resources to all her books as well!