This is the question I have started to ask myself over the last few weeks. I have watched debates, speeches, interviews, and talk shows. I've read celebrity's tweets, looked at different Instagrams and listened to friends talk about all the things going on with this election. Let me start by saying I am fully aware that this election is absolutely huge, and I strongly encourage every single one of you to use wisdom and discernment as you prayerfully consider who to vote for based off of what you believe. I encourage you also to vote, because your vote does matter. I am writing this simply as another perspective for this election. It is oftentimes so easy for us to get fixated on someone else's problems and rarely flip the mirror to our own. Today I simply just want to hold up the mirror to each of us individually and ask ourselves the question, "Are we are part of the problem?"
There are two people our whole country is focused on right now, and although it is important to pay close attention to what they are doing and saying, I do wonder if those two people are our biggest and easiest distractions from ourselves. I have seen people saying the most hateful things about these two people, wishing they were dead, mocking their weakness, being cruel about their appearance, and speaking lies to spread more fear about one than the other. We can debate all day long about the character of these two people, but just for a moment I want stop focusing on them to point to all of us. The ones who are mocking, lying, being cruel, being harsh, being insensitive, and so much more. Are we any better than these two people? My question is are they really what is wrong with the country or are we?
Matthew 7:4-5 "Or how can you say to your brother, 'Let me take the speck out of your eye,' when there is a log in your own eye. You hypocrite, first take the log out of your own eye, and then you will clearly to take the speck out of your brother's eye."
You may say, "Well Sadie, this is different. These people are running for president to lead our country. We have to judge them." I hear you, and I agree that we need to be discerning, wise and lead others with truth, but unfortunately a lot of what I am seeing is not that. I see hate, fear, dishonesty and downright bullying. And we the people make up this country. I say all this more of encouragement then anything that the character of this country is not only in the fate of the two men in charge – the character of this country is in you.
I hate to see good people excusing bad behavior because that is "just politics." Especially those who are following Christ, because nothing I have named above is a fruit of the Spirit. It is easy to make excuses for our behavior when everyone is acting the same way, but just because it is easy does not mean it is justified.
Galatians 5:7-9 says, "You were running well. Who hindered you from obeying the truth? This persuasion is not from him who calls you. A little leaven leavens the whole lump."
We need to stop letting this one area of our life excuse behavior that we would never ignore in other parts of our life.  Can you imagine treating a friend or a neighbor that way? Jesus said our neighbor is the one we would least expect.
Christians, this is a call to you – the world is freaking out right now and there is a lot of darkness, but YOU are called to be the light. "You are the salt of the earth, but if salt has lost its taste, how shall its saltiness be restored? It is no longer good for anything except to be thrown out and trampled under people's feet." (Matthew 5:13) – Let's just stop right here for a minute. These are from the words of Jesus. If the salt loses its taste then it is no longer good for anything. If you are not being the flavor of Jesus in this world during this time, then what good are you doing?
"You are the light of the world. A city set on a hill cannot be hidden. Nor do people light a lamp and put it under a basket, but on a stand, and it gives light to all in the house. In the same way, let your light shine before others, so that they may see your good works and give glory to your Father who is in heaven." Matthew 5:13-16
YOU are the light of the world. You are also not meant to be hidden during this time, to just not speak, not act, or not try. But when we do speak would it be done in love, and when you act would it be with fruit of Jesus. If you walk in love and in the fruits of the Spirit of God the world will notice, because the contrast is sharp. Go be the salt and the light in the midst of a time when the world needs it the most. To God be the Glory…even in this election season.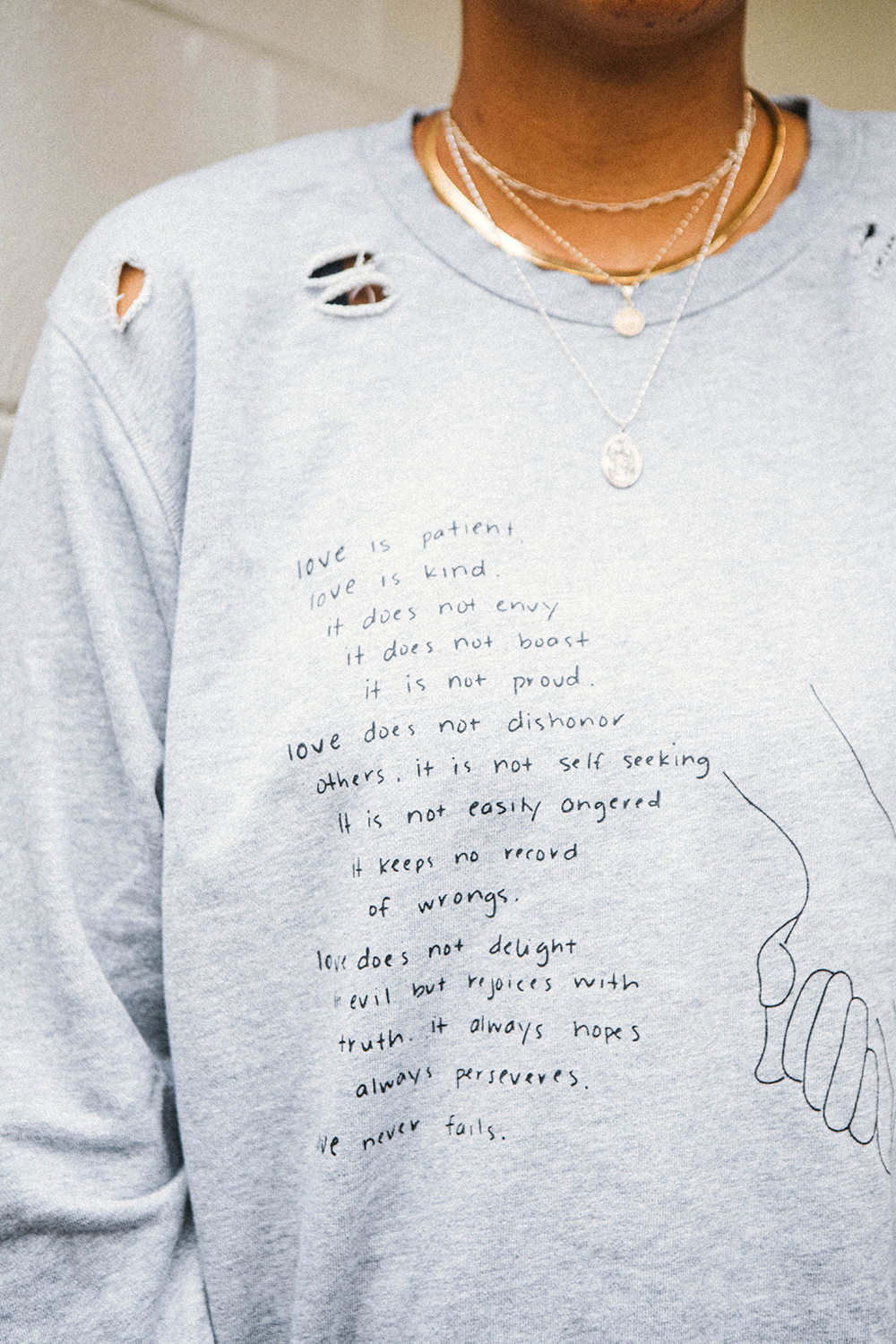 In honor of being light and love in this world, we have created a special and timely piece inside my Words of Affirmation Collection. "LOVE IS…" sweatshirt ON SALE now (limited quantities available). Be light. Be love, fam.
Want more encouragement from Live Original? Follow us on Instagram @legitsadierob and @liveoriginal.