"Nothing is never nothing. It's always something." 
—Cecelia Ahern, The Book of Tomorrow
"Chris, drop anchor," Nick shouted to me from the stern of our little boat in the Aegean Sea. We were vacationing for a few days in Santorini, Greece—my favorite place on earth. (Yes, the same place where I've daydreamed about opening a little café.) It was fun to be out on the water and to reminisce about our honeymoon more than two decades before in this same paradise. Just like back then, Nick had rented a boat so we could explore the island and its coves.
Both Nick and I love boating. I especially love the beauty of gliding across the water, watching the sunset, and feeling the salt air on my face. Nick likes more high-octane adventure, and he never minds getting so far out that we encounter shipping lanes where our boat feels like the size of a life raft next to massive cargo ships. (Of course, those kinds of trips just cause me to pray more.)
Today, he just wanted to fish, which meant I could relax. As we left the marina, we headed in search of our favorite small cay and its secluded little lagoon. It was the perfect place to drop anchor.
Whenever we go boating, Nick often fishes while I close my eyes and soak up the sun. Don't get me wrong; I love to fish too . . . as long as I don't have to touch the fish. The truth is, I like the thought of fishing more than actually fishing, so I suppose you can say sunbathing is my preferred sport.
As Nick set up his gear and cast his line, I went to the bow of the boat and dropped the anchor. Then I stretched out to rest and nap. It was the perfect kind of day. Just the two of us and lots of sun and sea.
I must have dozed off longer than I thought, because when I awoke, the mild breeze had turned into a biting wind. The heat of the sun on my skin had turned into a damp chill, and the boat was rocking way too much for our shallow cove. As I opened my eyes and sat up, I looked around to find us far from where I'd fallen asleep.
How did we get here?
Nick was stowing his gear. "Chris, did you drop the anchor like I told you?"
"Yes, of course," I answered him. (I always do my best to be a great first mate!)
"But did you set it? The current has taken us really far out."
"Did I what? What are you talking about? You asked me to drop the anchor, and I did. You didn't say to do anything else," I said in defense of my expert seamanship.
"Chris, if you don't ensure the anchor is attached to the ocean floor, then we aren't really anchored."
Well, no one told me that part of the equation.
Holding on to the side of the boat, with the waves looming larger and larger, I estimated that we'd drifted more than a mile out to sea—right into the shipping lanes, and this time it wasn't for adventure. Apparently, Nick had taken a break from fishing to nap as well—and neither of us had noticed that we were drifting into dangerous waters, far away from the security of our calm little cove. I looked beyond the nearby ominous ships and saw a storm brewing in the distance, working its way toward us. We'd have to outrun it for sure. None of this was what I had imagined for our day.
As I held on, Nick began to navigate our little boat back in the direction of land. Fighting the current and the waves, he tacked back and forth through the choppy seas and against the fierce wind. I grew nauseated as the boat ran straight up a wave only to fall on top of the next—one right after the other. My knuckles grew white as I gripped the rail tighter and tighter trying to stay put on the seat.
Nick stayed with it. He's always been an expert captain, so I knew we'd make it back somehow, but the journey was nothing less than arduous. It took us so long to reach port that when we idled into the marina, the sun had set and the docks were almost deserted. As we secured the boat in a slip and climbed out, it seemed every muscle in my body that had tensed for hours was letting go all at once. Wobbling toward the car with just a few streetlights and the moon to guide us, I reflected on all we'd just been through—and what had caused it.
Nick had positioned us correctly, facing into the breeze, when he asked me to drop anchor—something he usually managed that I never paid much attention to. If I had just dropped it, held on to the rope, and then given it a good tug as we floated away from it, we would have been secured. The water was so clear, I probably could have seen it take hold if I'd been watching it, but I didn't fully understand the connection between dropping the anchor and anchoring: a dropped anchor gives the appearance of stability, while a set anchor actually grants stability. Only the latter keeps you safe. The other lets you drift into danger, wherever the current is flowing. It will lead you somewhere, anywhere—most likely where you do not want to go. What I learned on the water that day was even more critical than I realized. More relevant than I had ever understood.
It is so easy to drift.
All you have to do is nothing.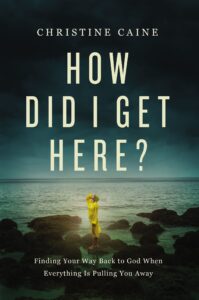 Taken from How Did I Get Here: Finding Your Way Back to God When Everything is Pulling You Away by Christine Caine Copyright ©2021 by Christine Caine Used by permission of Thomas Nelson. www.thomasnelson.com.
Christine Caine is an activist, speaker, and author living in Southern California. Along with her husband, Nick, she is the founder of A21, a global anti-human trafficking organization, and Propel Women, an organization dedicated to celebrating every woman's passion, purpose, and potential. She regularly speaks in conferences, churches, colleges, and international gatherings. She is the author of several books, including her latest book, "How Did I Get Here? Finding Your Way Back to God When Everything is Pulling You Away." A frequent guest on television programs and podcasts, she also hosts her own television program as well as a podcast, both titled Equip & Empower with Christine Caine. When she's not traveling, speaking, or writing, she can be found hiking mountain trails, running on the beach, or laughing with her daughters, Catherine and Sophia.