"Cozy" is one of the most important words to me, both in my design life and my emotional life. I have been dubbed the queen of cozy by some really kind people on Instagram and in the blog world, so it's a totally legit title. In all seriousness, I do pride myself on the ability to create a cozy space and show others how they can as well on my blog, LizMarieBlog.com, daily.
Cozy, to me, is hitting all five senses from the scents, food, soft throws, and relaxing tunes. During the design process, I keep all five senses in the back of my mind because seeking a feeling of being cozy in a space is not just a look. Ultimately, I am looking to have all five senses in perfect harmony–whatever that moment is for you–during the season. Cozy can be something different depending on where you live and what season of life you are in at the moment. I believe that everyone can achieve their own cozy, whether that is living with your parents, your first dorm room or apartment, to your first or final home.


Cozy has always been a part of my life; let's rewind back to when I was very young. I was the girl who didn't watch cartoons, but instead was watching design shows like Trading Spaces and Christopher Lowell. The passion for design and decor was obvious to me and to others from a really young age and has stuck with me ever since. Fast forward a little to getting married at the very young age of 19 to the love of my life, who was in the Marine Corps when we got married. The day after our wedding I moved across the country to be with my new husband, away from all my family, friends, and everything that was familiar to me. Not only all of that, but shortly after we got married and moved to North Carolina, Jose started deploying and I was left in our home to fend for myself. The biggest thing I wanted was to create a safe and cozy home for myself and for my husband when he returned. Before I could even comprehend what I was doing & putting it into words, I was creating a cozy home for me to feel safe in.
Early on, like most young couples out there, funds for home décor and design were very limited. I would seek out garage sale pieces to upcycle or look for pieces of furniture to fix-up, paint, or bring a fresh new look to sell to get some extra funds for pieces that I wanted to use in our home. You can easily get a Pottery Barn looking home or space with all upcycled pieces of furniture and DIY home decor. A cozy home & space doesn't have to cost a lot of money, because the main ingredient to a cozy home is free. Love and anything beyond that can be accomplished on a big or a small budget.
One of the many things I love about being a part of the DIY community is that fact that nearly all DIYs have free instructions and material lists. Every day, we share ideas, tutorials, and inspiration on our blog and social media that are free, as do a ton of other bloggers in the community. So, you have all the resources on how to do stuff at the tips of your fingers & you can upcycle & re-use items found at thrift shops, antique shops, & things you find in your grandma's attic to make the perfect cozy home for you and your family.
Some of our favorite projects we have ever done were the low-budget projects we took on when we were newlyweds. I started in small spaces, like building a vanity in our bathroom and designing bedroom spaces, before taking on the bigger spaces due to the budgetary needs for each of them. Bathroom organization projects are great introduction projects for a young DIY'er. I built extra shelving, magnetic jewelry organizers, and a custom vanity to help organize my makeup, all on a tight budget. "Cozy" doesn't always mean that Instagram ready space, it can mean small little ways to improve your space that makes you enjoy the space just a little bit more. It's amazing what a big result a seemingly small action can have.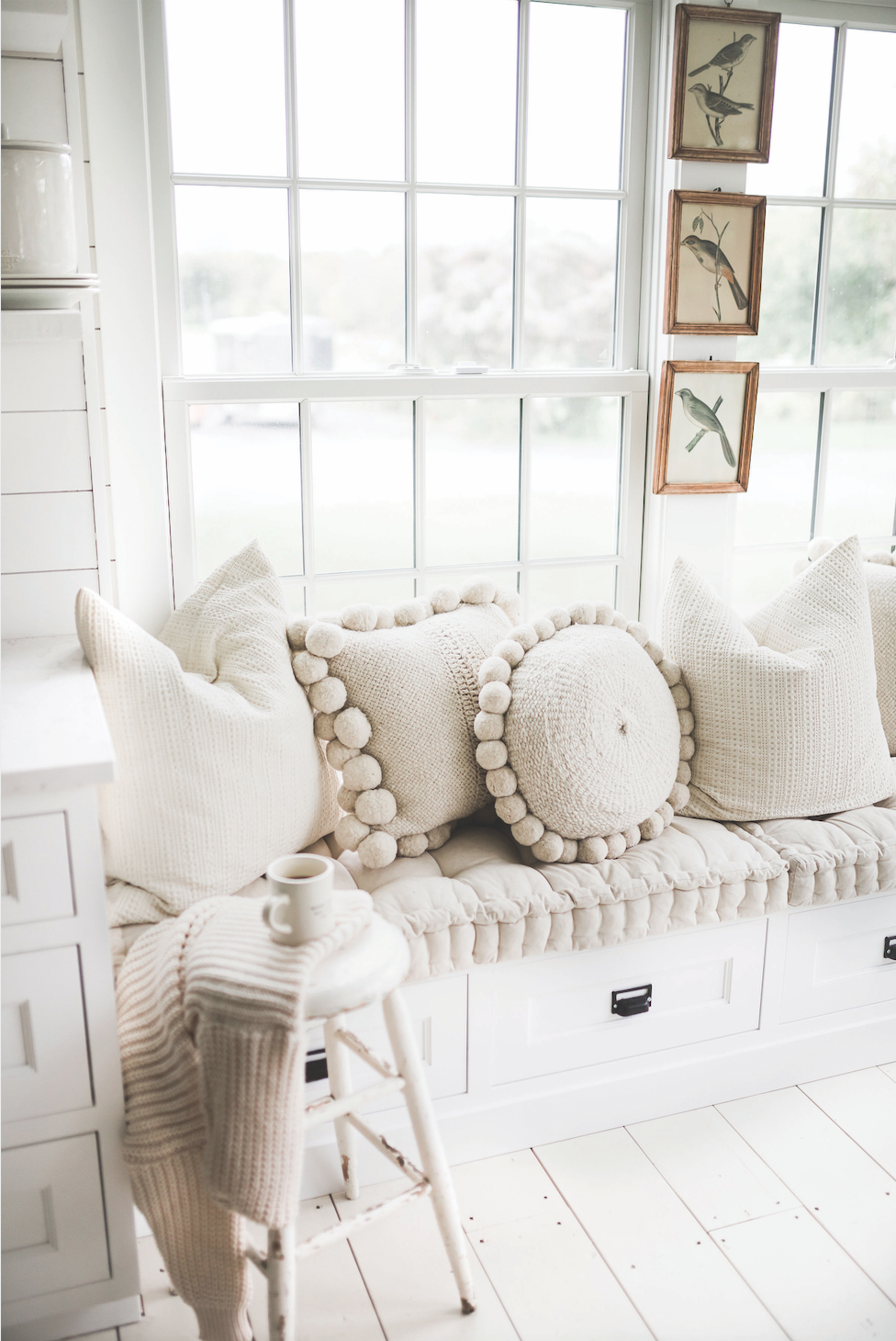 Over the years I have found a tremendous difference in my emotional balance and happiness from creating cozy spaces, even in a fixer-upper home (I live in a farmhouse from the 1850s). I cannot express how much happier and more enjoyable it is to have a personal haven to escape to or enjoy coming home to each day. Opening the door to your home, or sneaking away to a little corner or bedroom on a rainy day, to slow the day down and nurture your brain with a harmonized, cozy space, will hit all the senses. It can be a great space to recharge or an escape for those hard days that we all have from time to time. I hope if anything, I can convince you of the need for cozy spaces and express how much more they are than a "perfect," magazine-ready oasis.
If you are seeking ways to make your home or space cozy, but don't know where to start, that is great. We all start here! There are some basics of design and ways to approach your next cozy space, but a few tips I think fit all styles and all ways of life can be captured with three great starting tips.
1. Keep all your senses in the back of your mind.
You may not hit all of them in every single space, but just one or two extra senses would make your space just that much more enjoyable. Think of how you going to feel, and how are you going to use this space. If it's a bedroom, the touch of a big comforter, soft pillow, and a cloud-like area rug, will cover the touch sense, but think about the other senses. A light flow of lavender from an oil diffuser, some sleepy sounds or a relaxing playlist, and choosing dimmable warm light bulbs to relax the eyes, when combined, will make a big impact. Take your space just a little bit further.
2. Work with your budget.
We all were (or are) at a point where we needed to limit our spending on non-essentials. Tackle small projects or spaces first. Like I mentioned, we started with small areas like corners in the bathroom for added storage or a DIY makeup vanity. Then, we moved to some guest bedrooms and kept the designs simple. I made headboards out of four old windows mounted to the wall, a project that was well under one hundred dollars. Budget your designs and seek out ways to DIY. I would approach budget friendly designs with one major investment, like a big piece of furniture or other statement pieces, and DIY the rest of the design if I could. Go to garage sales or Facebook marketplace for pieces that you could give new life to for your home or to flip and sell to gain extra funds. All these approaches will help you cruise through your entire home without breaking the bank.
3. Seek out inspiration.
In my book, I go into ways to find inspiration for the next space, but one of the ways is to look to the DIY and Interior Design community. There are so many talented bloggers and vloggers out there that share the design, why they chose it, and how you can create the same cozy space with similar elements. I have my inspirational people or items I purchase that I want to base design off of, so once you figure out your look, you need that little light to get your started.
To me, cozy is more than just a pretty space. It is instrumental in my emotional balance, and I use each of my spaces to recharge or provide inspiration. I need these spaces to keep the creativity flowing or calm me down on a tough day. I am so thankful to have those spaces prepared ahead of time and hope that you find the same importance of finding your cozy.
If you're looking for more ideas and actionable tips, I'm happy to help! I describe how to accomplish cozy in my new book, Cozy White Cottage: 100 Ways to Love the Feeling of Being Home. And, you can always follow along with me on my blog, https://www.lizmarieblog.com, and Instagram, @lizmariegalvan