Who Are You following?
STUDY GUIDE + STREAMING VIDEO
Following Jesus reminds us of our real identity
Social media is a great place to keep up with family, friends and your favorite influencers online, but if we're not careful, we can get caught trying to become who we're following on social media, rather than following Jesus and becoming more like him. We can start trusting voices of people we've never met over the One voice who knows and loves us most.
In this five-session experience, Sadie challenges us to consider who we're following and how we are influenced. What would it look like if we were led by God's love instead of by strangers' likes? Join Sadie Robertson Huff as she answers the tough questions and reminds us of whose glory we're really living for. Together, we will learn how to face our mistakes with divine perspective and discover where our true fulfillment is found in Jesus.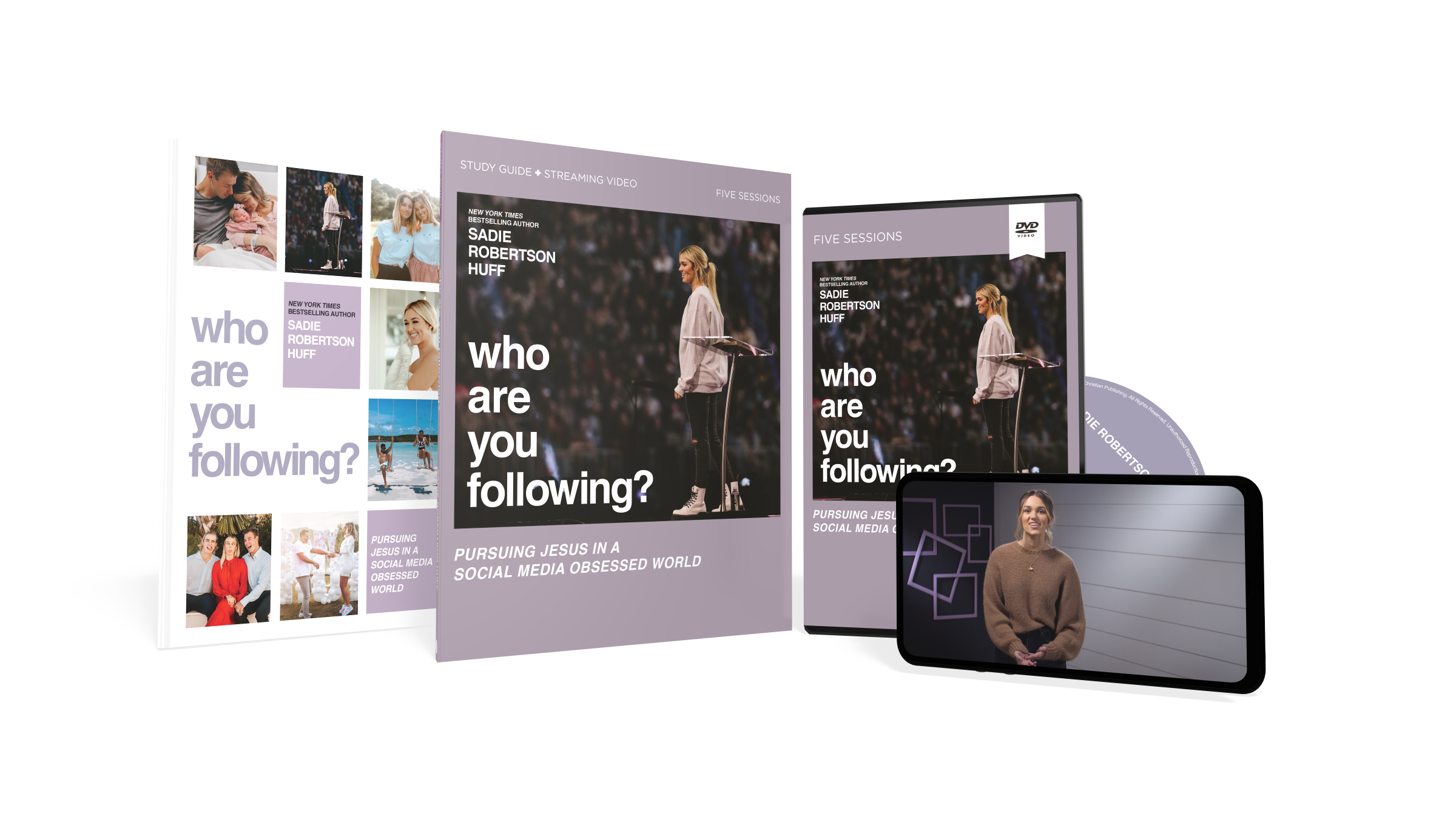 Who Are You Following?
Get the Bundle that contains the Book, Study Guide + Streaming Videos.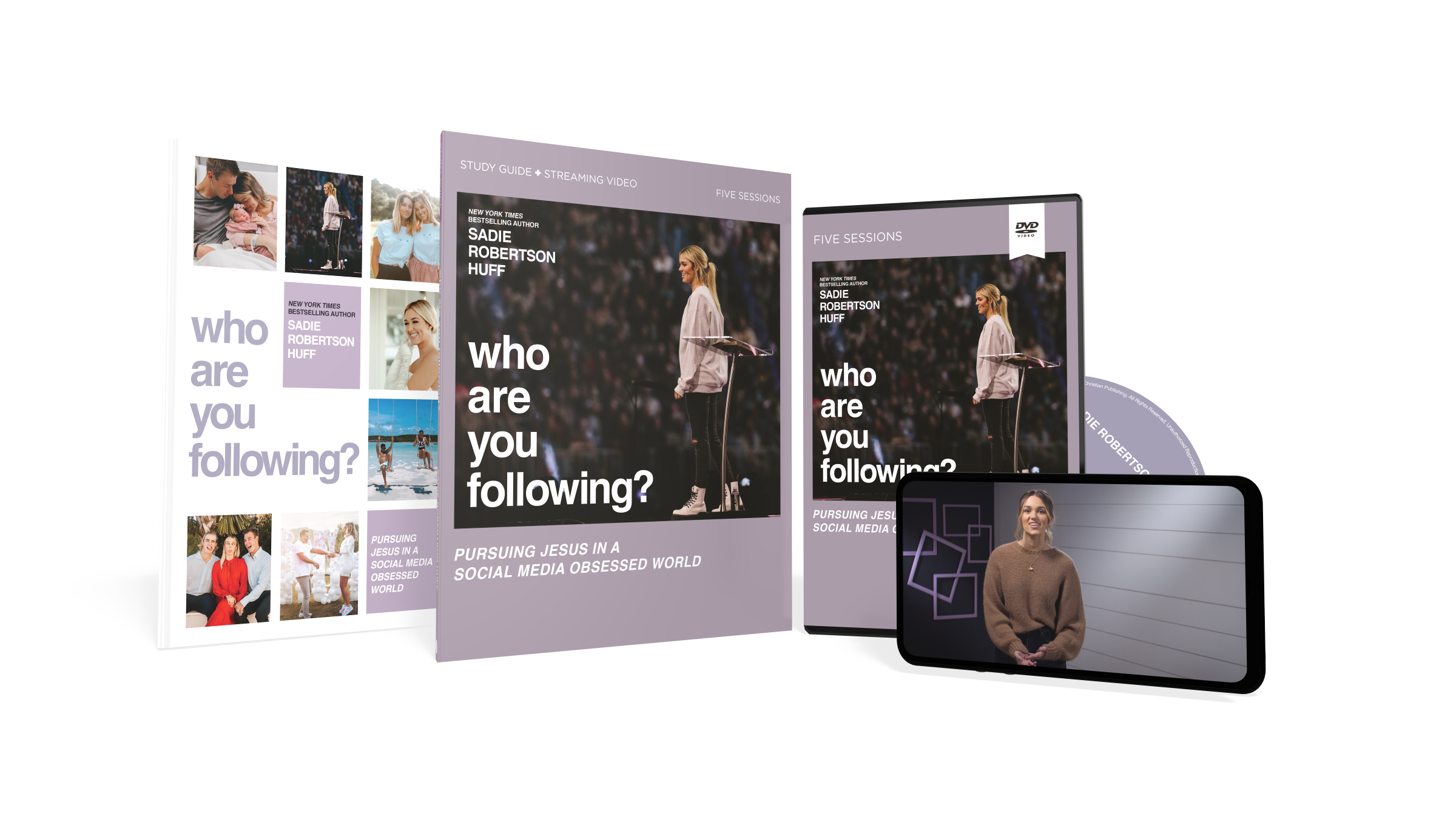 Who Are You Following?
Get the Bundle that contains the Book, Study Guide + Streaming
DETAILS
Included in the study guide:
Individual access to five streaming video talks from Sadie
Group discussion questions about Sadie's talks
Constructive convos to process the message on a practical level
Own-your-own simple steps to implement what you're learning
Video notes
Sessions and Video Run Times:
S1 Know Where You're Headed (15:00)
S2 Choose Love Over Likes (17:00)
S3 Get Glory for God (14:00)
S4 Say Grace (15:00)
S5 Refuse to Just "Do You" (17:00)
"Show me who you're following, and I will tell you who you'll become. We are always following someone. In a generation where anyone can be an influencer and have a platform, we need to choose wisely those we follow.

Sadie is a voice you can trust and follow. I know this because she has chosen to use her influence and platform to help others find the freedom she herself found in Jesus. This book is filled with truths that will empower you to live the life God has purposed for you.

This book is a beautiful invitation to join a movement of people who choose to follow the only one worth following, Jesus. He is the one who knows you better than you know yourself and has a beautiful story for you to be the authentic woman you are called to be."

Pastor Alex Seeley

Author of Tailor Made & The Opposite Life
"I am so grateful for this timely and important book. In her down to earth, honest, transparent, vulnerable and hilarious manner, Sadie challenges us to consider the voices that are forming and shaping us, offering wisdom and practical advice to ensure we are becoming more Christlike."

Christine Caine

Founder A21 & Propel Women.
"This book is a reflection of God's heart for our social-media-driven world. We love Sadie and we are so grateful this book exists to encourage and explore what it means to follow Jesus."

Cody Carnes & Kari Jobe Carnes
"Sadie Robertson Huff's passion for Jesus is inspiring. If there is anyone who can balance having influence on social media with a deep love for Jesus, it's Sadie. In her book, she dives deep into important truths about who we are, online and off, and how we can experience God's perfect love while trying to make a difference. If you're searching for the answer to "Who are You Following?" this book is for you."

Craig Groeschel

Pastor of Life.Church and New York Times Best Selling Author
"We've had the honor and privilege to stand close and watch what God is doing through Sadie, who has a trustworthy track record of wholeheartedly and contagiously following Jesus. Her newest book, Who Are You Following?, is a beautiful invitation to combat the temptations within social media and culture and embrace who God has wonderfully created us to be. Put this wisdom-filled book at the top of your reading list!"

Louie and Shelley Giglio

Pastor, Passion City Church, Co-founders of the Passion Movement
"Sadie's contagious love for God will penetrate you through these pages. She challenges and requires all of us to not settle for the easy way but the only one that will fulfill us."

Jennie Allen

New York Times Bestselling Author of Get Out of Your Head, Founder and Visionary of IF:Gathering
"Sadie Robertson Huff is a voice for our generation, and her book Who Are You Following speaks directly to this moment in time. With her characteristic wit and humility, Sadie unravels for us the quagmire of social media and points us to the clarity of the cross."

DawnCheré Wilkerson

Pastor and Co-Founder of VOUS Church
"Sadie is such a trusted voice, such a wise friend, such an example to many of us on how to live well and live a life near to God. Nothing has shaped my life more than those who have lead me and I'm thankful that Sadie is one of those voices."

Annie F. Downs

New York Times Bestselling Author of That Sounds Fun